Discover Thassos
Samaras & Limenaria Beach
Get to know the seaside
village of Limenaria
Limenaria is the second largest town of Thassos and is located in the southeast of the island.
It has a long industrial history as there used to be the old mines of Speidel Company around 1903, which were the reason for the construction of the whole village. Another ornament left by the German company is the "Palataki" that used to house the company's offices, but now it is an important monument in the area, designed by the Italian architect Arigoni.
At the top of the hill are the mining depots where you can watch music and theatrical events during the summer months from the cultural institutions of the island. At the folklore museum in the center of the village, there are ceramics, traditional costumes and everyday objects that travel to other times.
In the beautiful Limenaria you will find many taverns, restaurants, and bars that will meet your needs for dining and entertainment day and night. Its excellent tourist infrastructure will make your stay an unforgettable experience. After all, Limenaria are now writing their own tourist story in the North Aegean!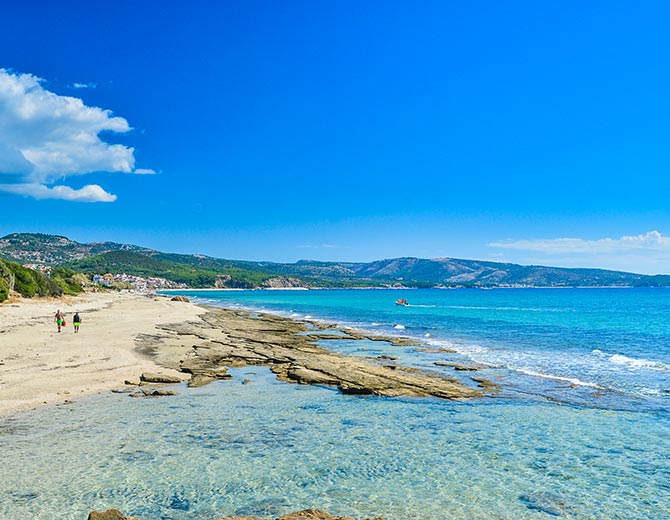 ENJOY YOUR VACATION
Experiences & Activities
01
Stunning Beaches
Thassos is littered with dozens of amazing beaches and hidden coves all over the island, renowned for their crystal clear waters. Every visitor will find a beach of his liking to relax & enjoy, whether it is a sandy or a pebble one.
The beauty of the island is undisputed and is considered one of the most diverse and beautiful islands on the Aegean sea.
02
Sailing / Boat Tours
In a place famed since antiquity for the maritime skills of its inhabitants, you can find several places to either rent a sailing boat or book a boat tour and a multitude of good moorings in the vicinity of the coast.
If you charter your own boat you don't have to confine yourself just to Thassos, you could take a trip across to the Athos peninsular of Halkidiki which is the ancient home of several Orthodox monasteries or visit nearby islands.